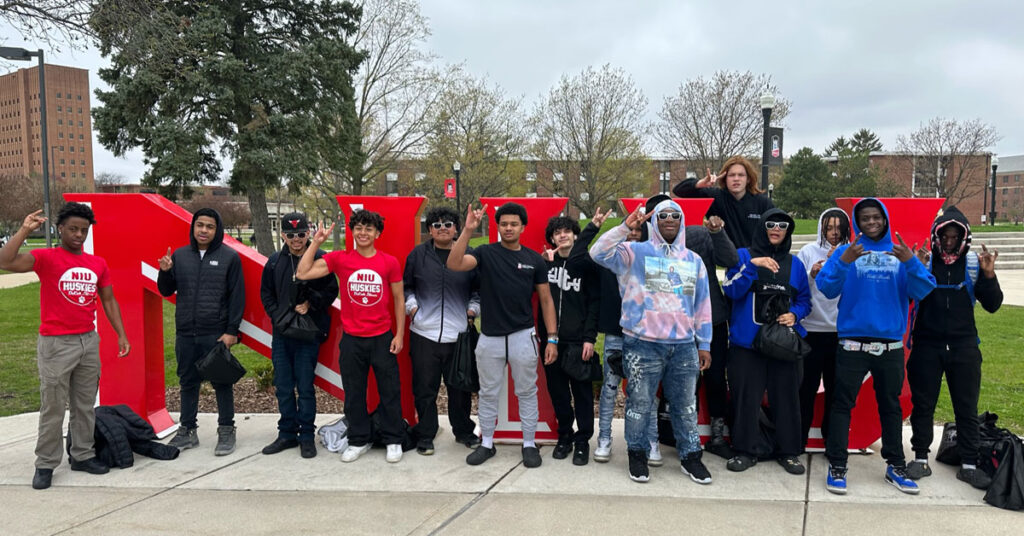 Northern Illinois University (NIU) hosted Elgin High School's (EHS) Youth Empowerment Program (YEP) sophomores on April 25, 2023. The purpose of the visit was to introduce YEP students to postsecondary opportunities early in the decision-making process giving them time to prepare during their junior and senior years for the next steps after graduation.
Students during their visit met NIU College of Education faculty, visited classroom and lab environments, and toured the residence halls. Students shared these experiences with EHS administrators, coaches, and counselors.
Alignment was excited to partner with NIU and EHS to offer this experience to the YEP students. The YEP program focuses on a critical time in the student's high school experience. Originally proposed in 2021 as a partnership between U-46, the City of Elgin, and the Elgin Police Department, the program offers leadership development opportunities to students in the middle of their high school experience helping to ensure each student develops a viable plan of success for high school and the future.
Aaron Cobbs, EHS assistant football coach and Kimball Middle School teacher, has helped launch the program at both Elgin and Larkin high schools. Cobbs credits the success of the program this year to "a dedicated group of U-46 staff and community leaders coming together to do what's best for students". One of those leaders Nick Billone, EHS's Dean of Students, describes the program "as an opportunity to go the extra mile with a committed high school administration and community".
Alignment wishes to express its appreciation to NIU for participating in this collaboration and to recognize Christopher Lowe from the College of Education for coordinating the visit. Lowe also represents NIU on Alignment's Teacher Pipeline regional initiative with U-46, District 300, District 301, ECC, Judson, and the Elgin Partnership for Early Learning (EPEL).