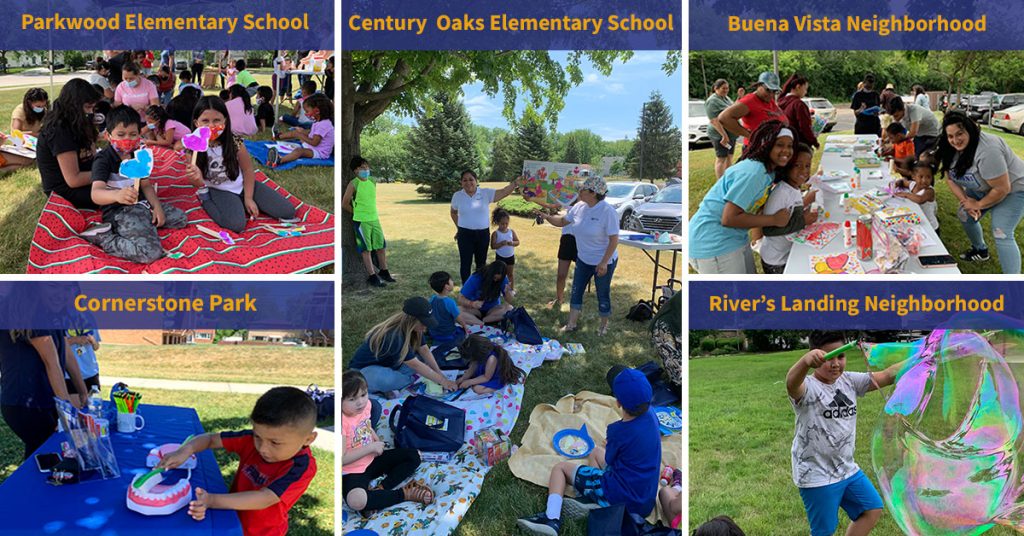 Alignment and EPEL, in partnership with School District U-46, kicked off the Summer Learning on the Go program the week of June 7th.  The program has grown to five locations and takes place from 10:30 am to 12:30 pm with weekly early educational activities in all locations, along with food distribution to families.  The weekly schedule includes:
Monday – Buena Vista Neighborhood & Cornerstone Park
Tuesday – Parkwood Elementary School
Wednesday – River's Landing Neighborhood
Thursday – Century Oaks Elementary School
Nancy Coleman, Alignment's Executive Director is excited about the growth in the programs this summer. "Through our partnership with EPEL, their early education experts are serving roughly 120 kids per week, across all five locations. Our goal is to provide engaging educational opportunities that will prepare and get the children excited about learning and the upcoming school year." School District U-46's Food Services has also been highly supportive, distributing family food boxes each week at Buena Vista, Parkwood, River's Landing and Century Oaks.  Cornerstone is benefiting from the City of Elgin Parks Program and food services from the Northern Illinois Food Bank.
The program in all five parks will continue through the end of July.  Both Alignment and EPEL greatly appreciate the grant received from Elgin Township to help fund this program for the children of our community.