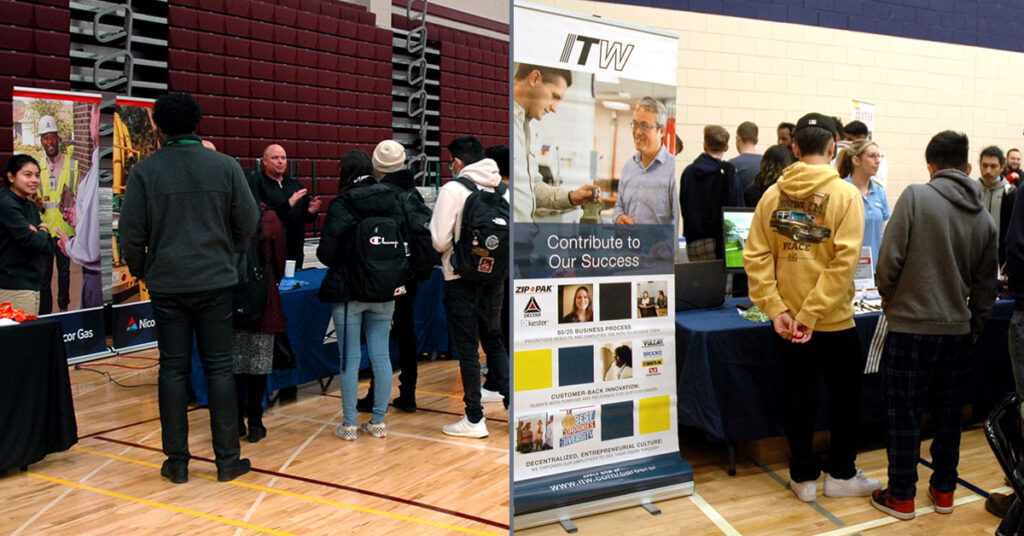 As the school year comes to a close, students in the graduating classes have been working to solidify their post-secondary plans.
Over 750 graduating students enrolled in career and technical education (CTE) courses from School District U-46 attended a job fair hosted by Alignment Collaborative for Education on April 27 at South Elgin High School and on April 28 at Elgin High School.
Career clusters highlighted at the job fair included automotive, business, culinary, education, health care, manufacturing, and welding.
Nancy Coleman, executive director for Alignment, said, "The purpose of this event is to prepare students as they exit their high school experience to enter the workforce. Thank you to the employers and sponsors for investing in our youth."
Eighty employers from the area with available job openings met with students to discuss their interests and available roles within their organizations. As they visited the exhibitors, students were able to receive information and the next steps to apply for open positions.
"This was a wonderful experience for the kids to see multiple opportunities available to them," said Kellie Mowers, a teacher at Elgin High School. "You can tell the employers are sincerely looking to hire the students."
Participating businesses found value in the job fair as well. "Thank you to U-46 for setting up this event," said Caleb Arteta, general manager at Nick's Pizza & Pub in Elgin. "Programs like this have opened up many doors of opportunity. As an Elgin High grad, I am very happy to share what events and programs like this can do for everyone."
Representatives from Elgin Community College, Judson University and Northern Illinois University were also on hand to meet with students interested in pursuing post-secondary education offerings.
Alignment, in partnership with School District U-46 and Northern Kane County Region 110 CTE Programs, will continue to plan similar events and its previously held resume workshop to help students prepare and explore the opportunities available to them within their own community.
Sponsors for the Senior Job Fair included: Advocate Sherman Hospital, American Honda Finance Corporation, City of Elgin, Elgin Community College, Grand Victoria Foundation, Hampton, Lenzini and Renwick, Inc., Hoffer Foundation, IHC Construction, ITW Shakeproof Automotive, Nicor, and School District U-46.
Thank You to Our Job Fair Sponsors
Advocate Sherman Hospital
American Honda Finance Corporation
City of Elgin
Elgin Community College
Grand Victoria Foundation
Hampton, Lenzini and Renwick
Hoffer Foundation
IHC Construction
ITW Shakeproof Automotive
Nicor
School District U-46
Thank you Business and Community Partners
Automotive
Biggers Chevrolet
Local 701
Rosen Hyundai
Standard Equipment
Business
Elgin State Bank
John B. Sanfilippo & Son, Inc.
KCT Credit Union
LSI
Manpower
Metropolitan Water Reclamation District of Greater
Chicago
Nicor
Zurich Insurance
Culinary
Advocate Sherman Hospital
Andy's Frozen Custard
Chick-Fil-A
Culvers
Elgin Community College Culinary Program
Nick's Pizza & Pub
St. Joseph Hospital
U-46 Food Services
Education
Boys and Girls Club of Elgin
City of Elgin
ECC – Early Education Program
ECC – Secondary Education Program
Judson University
Northern Illinois University
Streamwood Park District
School District U-46
The Learning Tree
Health Care
Advocate Sherman Hospital
Bella Terra Streamwood
Elgin Community College – Dental Assisting, Medical Assisting and Ophthalmic Technician Programs
Heritage Health
Highland Oaks
St. Joseph Hospital
Symphony of Hanover Park
Manufacturing/Welding
Custom Aluminum
ECC Apprenticeships
Electriflex
Elgin Sweeper
ESM
Hoffer Plastics
ITW Shakeproof
Manpower
Mapei
Nicor
NTA Precision Axle Corporation
NTN Bearing Corporation
Tech Weld
Image Gallery