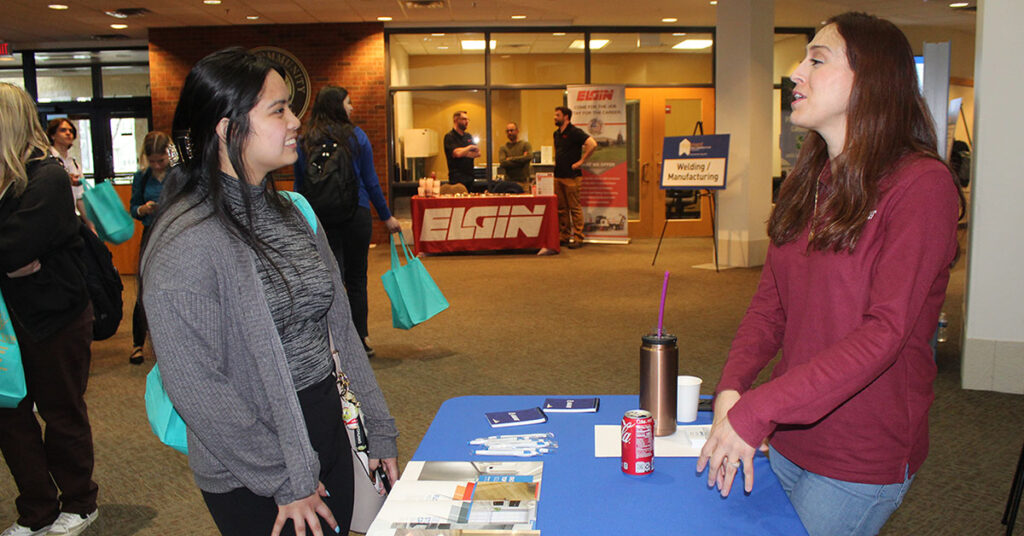 Seniors Prepare for Employment at Job Fair
Nearly 400 high school students from School District U-46 and Central School District 301 attended the Senior CTE (career and technical education) Job Fair on Thursday, April 20, 2023 at Elgin Community College. Representatives from about 60 businesses, corporations, non-profits, municipalities, trade unions, colleges, and universities were present to meet with students. "An event like this shows students, as they're preparing their postsecondary plans, that there are good options to work directly after high school, which also prepare them to be more competitive as they seek their long-term career goals" said Alignment Executive Director Nancy Coleman.
From all indications, this year's job fair was an immediate success. "At least three job offers were made on the spot at the event," said Terry Stroh, Executive Director, Northern Kane County Region 110 "including service technician positions at local auto dealerships and a maintenance position with a large equipment facility."
"We were impressed by how many students know the direction they want to go after high school." said Chad Randich, the business unit manager at Elgin Sweeper. He noted many students he spoke to were interested in a career in welding, a vital role at the company. U-46 offers a welding certification for students and its lab at Elgin High School is an accredited testing facility.
Mitchell Briesemeister, U-46 Director of Educational Pathways, remarked, "This is a place where we can connect high-wage, high-demand opportunities to our students who are choosing to explore entering the workforce immediately after high school. It is also a great way for our students to leverage the industry credentials they've earned in our high schools, which are valuable to our local partners."
Students who attended the Senior CTE Job Fair benefitted from the experience. Jesse Villagomez, a senior at Elgin High School, spoke with representatives from Hoffer Plastics. He was intrigued by the variety of products Hoffer Plastics produces, such as car speaker covers. A speaker was on displayed on the table for students to view up close.
Villagomez is currently enrolled in Culinary Arts courses and he is grateful he will be able to cook confidently for himself, family, and friends. As far as a career, he is looking at other fields. "I don't mind working hard," he said. "The job fair opened my mind a little bit more. It's making me flex my mind, thinking, 'Is this what I want to do, or is it something more like this?'".
Alignment's community-wide work has focused on helping businesses offer educational experiences for students to demonstrate the link between high school completion and workplace opportunities.
Mark Seigle of the Seigle Foundation visited the event and was impressed at the large scale participation. He complimented Alignment on its success and said, "I spoke to a student who said he loved it and an employer who noted it was a great use of his time."
Thank You Business and Community Partners
Automotive/Large Equipment
Altorfer CAT
Belle Tire
Bob Loquercio Auto Group
Lincoln College of Technology
Mechanics Local 701
Standard Equipment
U-46 Transportation
UTI
West Side Tractor
Manufacturing
CV-Tek
ECC Apprenticeship Program
Electriflex
Hoffer Plastics
MAPAI
MCIP
Middleby
Welding
ECC Welding
Elgin Sweeper
S&C Electric
Culinary
Andy's Frozen Custard
Culver's
ECC Culinary
U-46 Food Services
Employment Services
Manpower
Business/Operations
Fisher Nuts – John B. Sanfilippo & Sons
KCT Credit Union
Nicor
State Farm
TBK Bank
U-46 Human Resources
U-46 Plant Operations
Education
Bartlett Park District
City of Elgin Parks and Rec
ECC Education Department
Judson University
Northern Illinois University
Primrose School of South Elgin
Streamwood Park District
YMCA
Healthcare
Advocate Sherman Hospital
Bella Terra Streamwood
ECC: Dental Assisting, Medical Assisting, Ophthalmic Tech
Forest View Nursing and Rehabilitation Center
Fox Valley Orthopaedic Associates
Gateway Express Clinic
Highland Oaks of Elgin
Illinois Pain and Spine Institute
Ascension Saint Joseph
The Atrium at Oak Crest Residents
Walgreens
Thank You to Our Sponsors
AED Foundation
Advocate Sherman Hospital
City of Elgin
Elgin Community College
Elgin Township
Exelon
Grand Victoria Foundation
Hoffer Foundation
David and Sandy Kaptain
Nicor Gas
Seigle Foundation
United Way Metro Chicago
Zurich Insurance