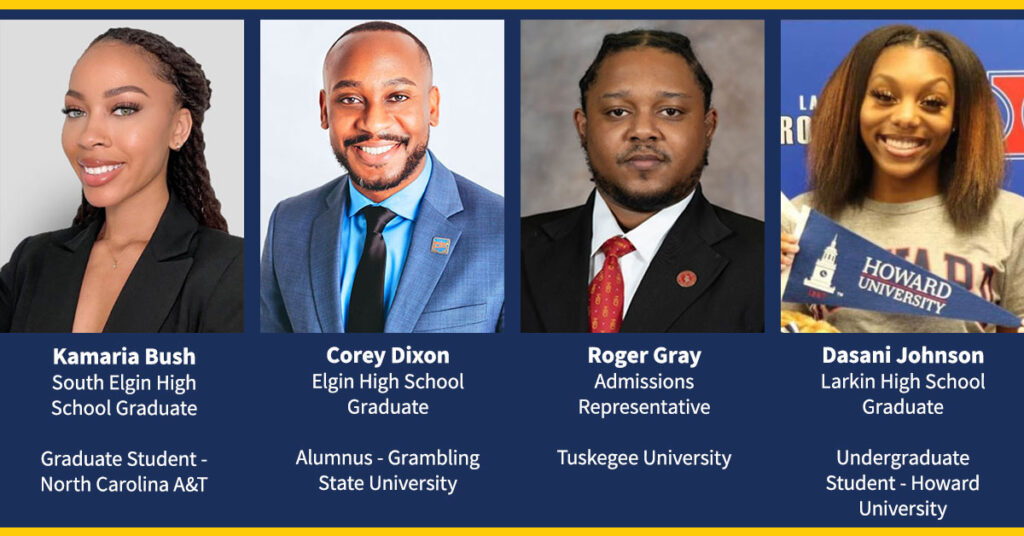 Students and Parents/Families Visit with U-46 Alumni 
Alignment in partnership with School District U-46 hosted its second annual Historically Black Colleges and Universities (HBCU) postsecondary panel on February 27 in recognition of Black History Month. Students and parents/families had the opportunity to visit with U-46 alumni currently enrolled in HBCU institutions including Dasani Johnson, a 2022 graduate of Larkin High School and current student at Howard University, and Kamaria Bush, a graduate of South Elgin High School and current graduate student studying biomedical engineering at North Carolina A&T.
Students and parents/families also had the opportunity to visit with City of Elgin Councilman Corey Dixon, a graduate of Elgin High School and Grambling State University. For specific information regarding the university admissions process, Alignment and U-46 were joined by Roger Gray, admissions representative for Tuskegee University serving the Illinois territory. Students benefited from learning about why panelists chose to attend an HBCU as their postsecondary choice along with advice from all panelists about how best to proceed in selecting a postsecondary institution to include discussions about financial aid and scholarship opportunities.
Teresa A. Lance, U-46 assistant superintendent for equity and innovation, praised the panelists for their role in "inspiring and encouraging students and their parents/families to explore the opportunities that HBCU institutions offer to students as they prepare for their postsecondary experience". Dr. Lance also expressed her appreciation to the parents and families joining the session in support of their students' goals and aspirations.
Alignment as part of its involvement in U-46's district wide equity work is committed to exposing students and their families to an array of postsecondary opportunities so that students are ready to make informed decisions upon graduation.