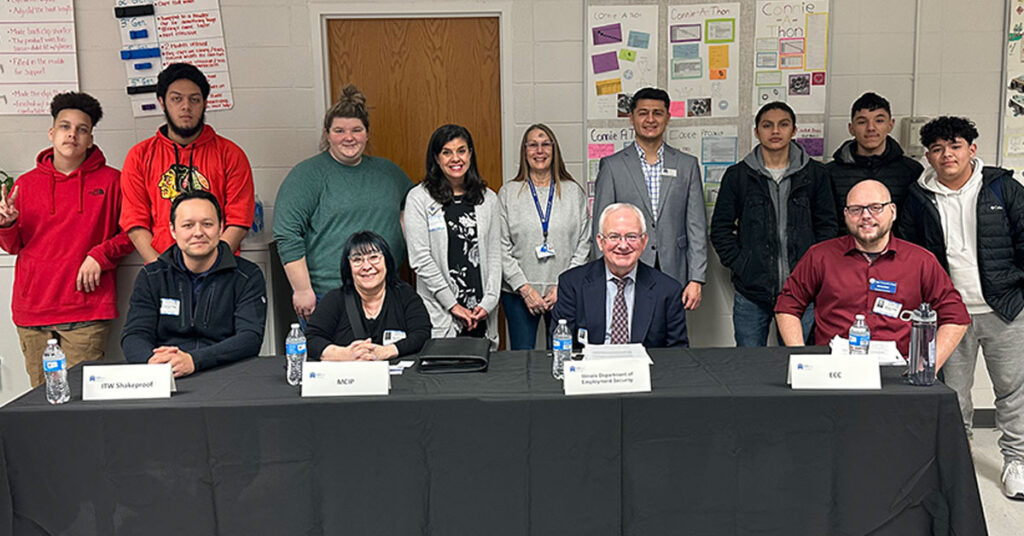 Larkin High School Hosts Automotive, Electrical, Engineering, Large Equipment Maintenance, Manufacturing, and Welding Career Opportunities
On February 22, Larkin High School in partnership with Alignment invited business professionals to its campus to share with students the high demand apprenticeship and job opportunities in automotive, electrical, engineering, large equipment maintenance, manufacturing, and welding.
Katie Lauesen, counselor for Larkin High School coordinated the event with teachers and students. They worked together to identify students with interest in these careers. As a result of their efforts, over 200 students benefited from the event. Diane Kriescher, Engineering (PLTW) teacher, recognized Alignment and the business community. "Thank you so much for orchestrating the career panel at Larkin High School today. The speakers were phenomenal. It's always a great day when students have exposure to career fields and educational options."
Alignment appreciates its business and postsecondary partners, who chose to spend their day motivating students about the future and advising them how to navigate their high school experience to best prepare for these professions.
Participating Organizations
Altorfer
Elgin Community College
Elgin Sweeper
IBEW Local 117
IBEW Local 196
Illinois Department of Employment Security
ITW Shakeproof
Lauderdale Electric
Manufacturing Careers Internship Program
Mechanics Local 701
Nicor
Universal Technical Institute