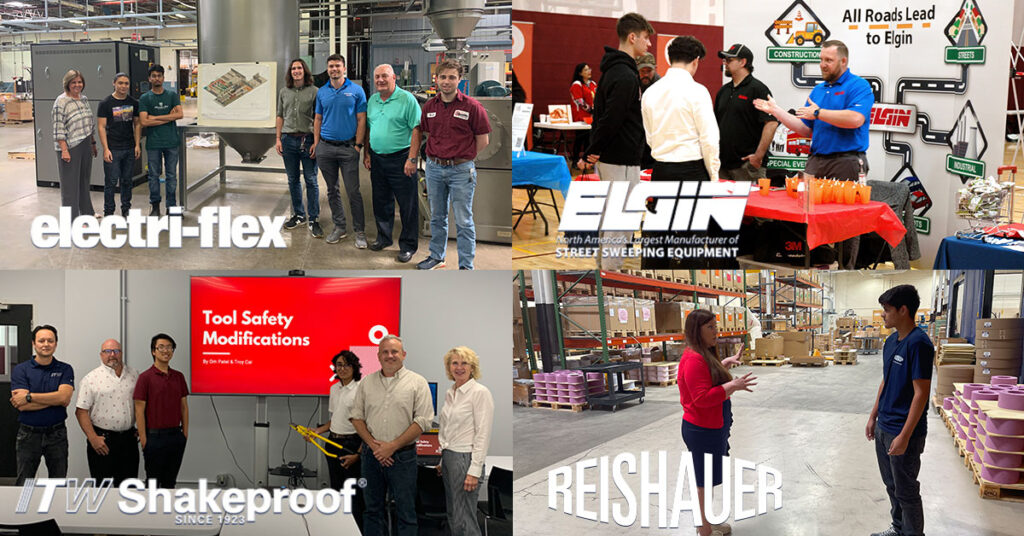 Alignment joining with Electri-flex, Elgin Sweeper, ITW Shakeproof, and Reishauer offered seven high school juniors opportunities to gain experience in engineering and manufacturing settings as part of a summer, work-based learning experience.
Students combined their interest in engineering and applied it in manufacturing settings. Project based assignments led by experienced engineering and operations professionals guided students to address a combination of design, quality, and safety challenges requiring innovative solutions to traditional manufacturing processes.
Kush Patel, a student at Bartlett High School and intern for Elgin Sweeper, described his experience as "giving him the real workforce experience that opened my mind to see how things we learn in school apply in real life." Mitchell Briesemeister, Director of Educational Pathways for School District U-46, confirmed that this is exactly the intent of the summer internships. "Manufacturing is a critical economic driver for our region and internships are a great way for our students to learn about the multitude of high wage careers available in the industry and the skillsets they require."
Alignment partnering with Northern Kane County Region 110 CTE programs placed 52 students in paid, summer internship opportunities because of the outstanding support received from its corporate partners. Tom King, Engineering Manager, ITW Shakeproof, emphasized that commitment "everyone involved here at Shakeproof was impressed with the interns and the program. Students were able to come up with an innovative solution to a real-world safety issue we deal with every day."
Thank you to our corporate partners for making these experiences possible.