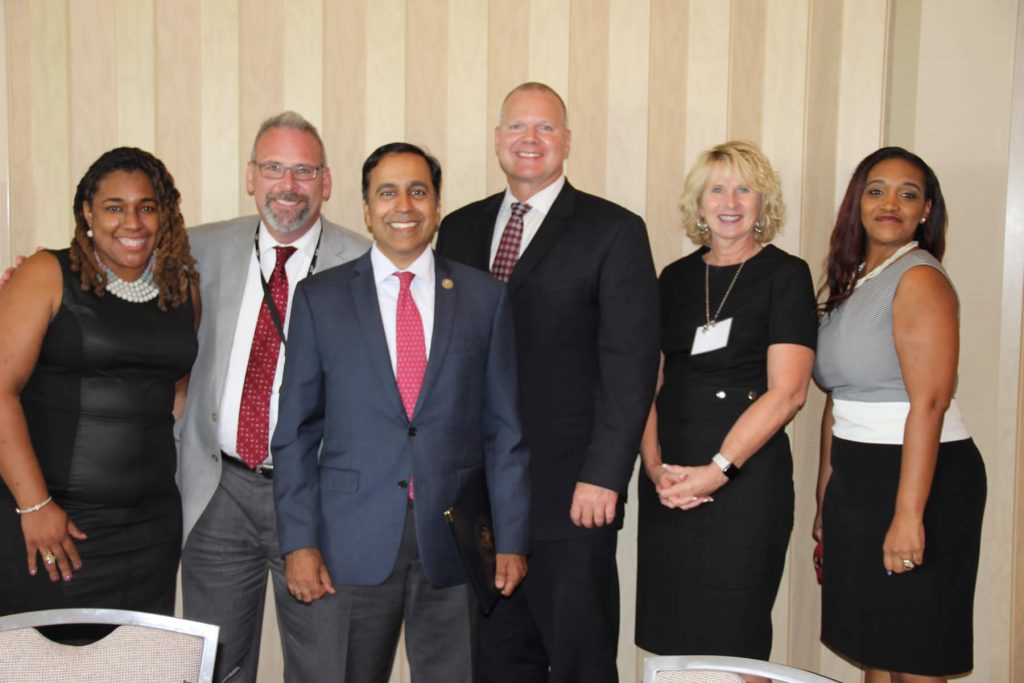 State Superintendent of Education and U.S. Rep. Raja Krishnamoorthi to visit District's award-winning programs
ELGIN – School District U-46 will give national, state, and local leaders a first-hand look Monday, Aug. 27 at how the District prepares its students for the working world. State Superintendent of Education Dr. Tony Smith and U.S. Rep. Raja Krishnamoorthi will visit the District's nationally-recognized Career and Technical Education (CTE) programs at Elgin and South Elgin high schools.
"We're grateful for the opportunity to showcase some of our award-winning programs," said Chief Executive Officer Tony Sanders. "These programs are great examples of how we can better prepare students with skills and credentials that will open doors in both college and careers."
Rep. Krishnamoorthi, a Democrat who represents a district that includes the west and northwest suburbs of Chicago, and Rep. Glenn 'GT' Thompson, a Republican from Pennsylvania, co-sponsored the bipartisan Strengthening Career and Technical Education for the 21st Century Act which was signed into law in July. The bill reauthorizes and modernizes the American career, technical, and vocational education system for the first time since 2006. Among many important changes to skills-based education and training nationwide, this legislation increases funding for the Carl D. Perkins Career and Technical Education Act by up to $1.3 billion annually, providing high school and post-secondary students with on-the-job training in fields such as cybersecurity, advanced manufacturing, and healthcare. It also requires educators to work with local businesses to ensure middle school, high school, and post-secondary courses prepare students for in-demand jobs in their community. Additionally, state laws such as Illinois' Postsecondary and Workforce Readiness Act place a greater emphasis on preparing students for the workforce. The State of Illinois has also set a goal of ensuring that 60 percent of all adults have a college or career credential by the year 2025.
Monday's program will begin when school buses leave Villa Olivia in Bartlett at 11:15 a.m. to tour the CTE programs at Elgin High School and South Elgin High School. Guests will convene back at Villa Olivia for lunch, which will end at 1 p.m. Dr. Andrea Messing-Mathie, Deputy Director of Education Systems Center at Northern Illinois University, will moderate a lunchtime panel discussion featuring Rep. Krishnamoorthi, Dr. Smith, U-46 CEO Tony Sanders, U-46 Director of Educational Pathways Kinasha Brown, and Alignment Collaborative for Education Executive Director Nancy Coleman.
Approximately 50 participants are expected to take part in Monday's Career and Technical Education Program tours, and it follows a similar tour in the spring of 2016 for community leaders.  Since then, more of the District's programs have met the criteria for national accreditation, and students from a variety of programs have continued to excel in state and national competitions that test their skills.
Elgin High School will welcome guests to its culinary arts, welding, automotive, and healthcare services programs, while South Elgin High School will showcase its automotive, precision manufacturing, and early childhood programs.
EHS Maroons enrolled in the culinary arts program regularly represent Illinois in national cooking competitions. Meanwhile, more than 97 percent of students in the EHS healthcare program passed their certified nursing assistant exam the first time.
Visitors will also see Elgin High School's newly renovated $1.7 million welding lab that opened in February. Also earlier this year, the welding program earned accreditation from the American Welding Society (AWS), certifying the school's lab as an Accredited Testing Facility (ATF).
At both Elgin High School and South Elgin High School, visitors will see the schools' automotive programs, led by instructors certified by the National Automotive Technicians Education Foundation (NATEF).
SEHS automotive teams have represented Illinois and ranked in the top 10 among all states in national competitions. Storm students are currently working to re-build a 1937 Chevy Pickup to display at the 2018 Specialty Equipment Market Association (SEMA) Show while EHS students have restored a 1967 Dodge Monaco and are currently working on a modified Chevrolet K-5 Blazer. Both programs earned NATEF accreditation in 2016.
At South Elgin High School, students in its precision manufacturing program can earn college credit and also earn certification through the National Institute for Metalworking Skills (NIMS). That group's rigorous, comprehensive accreditation program represents an important seal of approval within the manufacturing industry. U-46 earned District-wide accreditation of its precision manufacturing program through NIMS in 2015. Precision manufacturing is also offered to students at Streamwood High School.
Tour participants will learn that U-46 students can earn national certification in various disciplines – proof that students have acquired relevant skills that benefit prospective employers. In addition to certification, many students can earn credits that can be applied at college or post-secondary school training.
"We are no longer in a college or career era," said Kinasha Brown, U-46's Director of Educational Pathways. "We are preparing students for college and careers, and that means students can start building job skills in high school to further hone and develop in the workforce and post-secondary education."
WHAT: Tour of Career and Technical Education Programs at two of the District's five comprehensive high schools.
WHEN: 11 a.m. to 1 p.m., Monday, Aug. 27, 2018
WHERE: Villa Olivia, 1401 W. Lake St., Bartlett