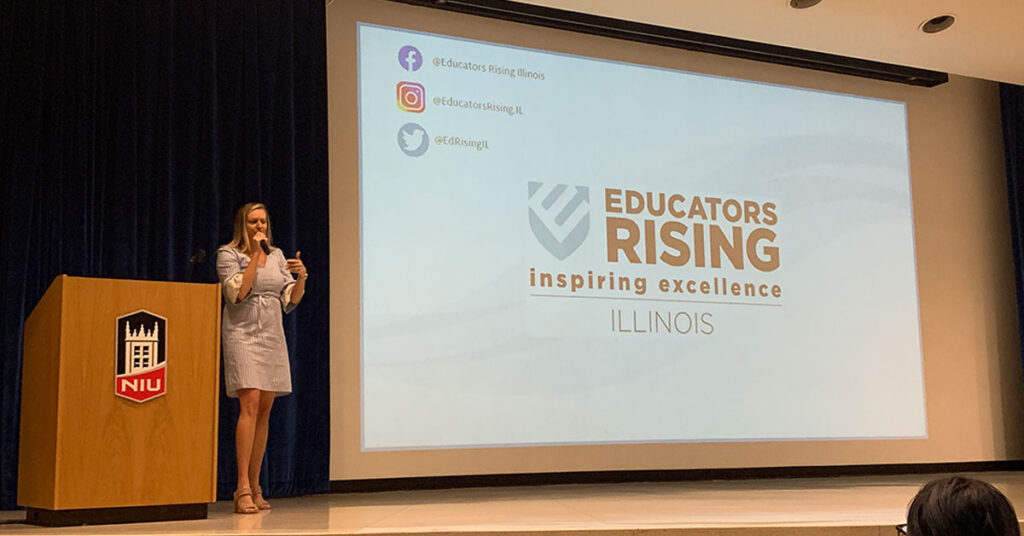 Seventy-five high school students seriously contemplating careers as teachers gained powerful motivation May 25, 2022 during the Northern Kane Educators Rising Conference at NIU.
Laurie Elish-Piper, dean of the NIU College of Education, made sure of it.
Teachers, she told the teens gathered in the Carl Sandburg Auditorium, "are the ones who plant the seeds of opportunity and access."
Teachers are the ones who sow "the seeds of belief in oneself." Teachers are the ones "who believed in you when you didn't believe in yourself," she continued, "who pushed you so hard that you did things you can't believe you actually accomplished."
"What teachers do in their classrooms all day, every day, makes a difference for their students and also for their families, our community and our country," Elish-Piper said. "Teaching truly is the wellspring and source of all other professions – of all other opportunities – in our world."
Justin Johnson, the 2021 Illinois Teacher of the Year, drove the message home.
"Thank you," said Johnson, band director at Niles West High School. "Thank you for choosing to do something that may not be the most glamorous profession but something that I believe is absolutely the most rewarding. For that, I appreciate you."
His keynote address provided the opening to a morning of breakout sessions on college planning, career planning, lesson planning and the statewide Educators Rising organization and its vision "to pave a clear pathway in every school district in America for young people who want to serve their communities as highly skilled educators."
Students also took NIU campus tours, enjoyed lunch in the Regency Room and listened to a panel discussion featuring current Huskies.
Christine Schweitzer, assistant director for Student Success in the College of Education, organized the event with team members from School District U-46, Community Unit School District 300, Central Community Unit School District 301, the Northern Kane County Regional Vocational System and the Elgin-based Alignment Collaborative for Education (ACE).
"My overall goal for this event was to inspire the students to become educators," Schweitzer said. "We also wanted to broaden their experiences of being on a university campus in hopes to help them see that college is possible. For some students, this was quite possibly their only opportunity to visit a college campus."
Planning began when Elish-Piper connected Schweitzer with Nancy Coleman, executive director of ACE, and Terry Stroh, regional director for the vocational system. Elish-Piper sits on ACE's governing board.
Funded by an Illinois State Board of Education grant, the group focused on two objectives: strengthening the teacher pipeline and bolstering the economy of the hometowns of the students.
Driving their enthusiasm was the success of the College of Education's PLEDGE (Partnering to Lead and Empower District-Grown Educators) initiative that already has graduated 35 elementary school teachers who never left Elgin to complete their NIU bachelor's degrees.
"Because these students live in the Elgin area, I wanted to explain the PLEDGE program as it could be the key to making their dream of becoming teachers come true," Schweitzer said. "The students were so enthusiastic and engaged. They truly seemed grateful for this experience. Seeing so many teenagers excited about education is really rewarding for me."
THE SAME IS TRUE for ACE's Coleman.
"One of the major concerns for the future socioeconomic health of the greater Elgin region, and with U-46 being such a large school district there were significant discussions already, is the teacher shortage and what we do about it," Coleman said.
"We also were hearing it from our business community from the standpoint of employers not having adequate child care services for their employees, so employees were not returning to work," she added. "That got significantly worse after COVID."
Given that concern, Coleman said, ACE initially concentrated on early childhood education and efforts to improve kindergarten readiness. However, their focus eventually shifted to the teacher pipeline.
"We were already doing all this work with Terry, and across the state, in trying to get students to have pathways as early as possible in the high school experience with the career and technical piece," she said. "We have now moved the direction toward focusing on the teacher pipeline because it solves long term a lot of those problems that the community is coming to us with."
Coleman calls Elish-Piper "critical" to ACE's process of identifying educational needs in the area, assembling all the stakeholders together to confront and resolve those questions and then moving on to the next challenge.
"It is extremely important that we bring the business community to the table to address these issues, as well as having our post-secondary education partners there," she said.
"But we are dead in the water if we don't have the commitment from secondary education – if we don't have the commitment from the high schools," she added. "That's where tying all of this together, and all of the high schools having education programs within their Career Technical Education offerings, is absolutely critical."
Stroh, who leads that exact effort within the three school districts in attendance May 25, as well in St. Charles Community Unit School District 303, was encouraged by the conference.
"This was the primer for next year and how we go forward," Stroh said. "Students are going to start talking to other students. We actually have a parent here today from one of the districts who wanted to come with her child; parents are going to talk to other parents."
RETELLING THE STORY and affirmational messages of keynote speaker Justin Johnson will provide excellent advertising of the event's worth.
Growing up in a 5,000-population "country town" in rural Tennessee, Johnson's life was changed by his first-grade teacher.
She was "one of the first people that I can remember who told me that I had to be the ability to be something other than just what I saw around me," he told the students – and what he saw were jobs in factories or on farms.
Because neither option appealed, and with the confidence to spread his wings, Johnson went to college to pursue a career in music, whether teaching or performing.
Now a decade into his career at Niles West, he has proven himself – and his first-grade teacher, who still is checking in on her long-ago pupil – right.
"This career is so important because oftentimes you will be the only people who will see things that are needed by your students," he told his audience in the Carl Sandburg Auditorium. "As a teacher, we sow seeds. We plant ideas. We plant ideals. We plant values in students, and many times, we do these things and never get to see the seeds that we plant grow, and that's OK."
As "the next wave" of educators, the high schoolers were told to "stay focused on the reason why you chose to go do this. Stay focused on the what it is that you're trying to do. Stay focused on the who. All those things are important, and all those things are going to help keep you honest. They're going to help keep you engaged, and more importantly, they're going to help you fight through when things get difficult."
Johnson shared a written message he received from a former student, one he figured was never really listening when he spoke but proved she was by covering her card in his sayings.
Her own words brought the band director to tears: I may not know where my instrument and I are going from here, but I know that I will always take what you have taught with me.
"Not that I always get those things, but when I do, it helps solidify for me the value of what it is I'm trying to do in the classroom every day," Johnson said.
"As an educator, you have power. You have a voice, and more important than the voice for you as an educator is the voice that you have for your students. If you're unwilling to speak up for the things that you need, it's going to be very difficult to speak up for the things that your students need, and that is the important piece," he added. "That has to be done by understanding why you chose to do this and keeping that at the forefront."
But, he cautioned, "with great power comes great responsibility."
"Your words have power. Your demeanor has power. The relationships that you build with students have power. They have the power to build you. They have the power to tear down. Luckily for me, I had a structure and system in place with far more people who built and spoke power to me than pulled me down," Johnson said.
"I hope that the people in this room will see, and seek out, those students who really need to hear that, and not typecast based on biases we might have about the people we think they might turn out to be," he added. "Speak power to them and uplift them – because you never know. Your words one random day might change the trajectory of somebody's life completely."
Mark McGowan
Manager of College Communications-NIU College of Education